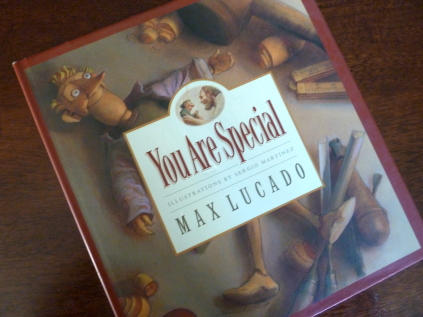 You are special
April 30, 2017
YOU ARE SPECIAL

"Though the mountains be shaken and the hills be removed, yet my unfailing love for you will not be shaken ..."
Isiah 54.10 NIV
Hear and see the story by pushing this link
The China missionary John Bentley gave all the children at a Chinese orphanage Max Lucado's book, "You are Special". In China, boys are preferred rather than girls. Healthy infants are more wanted than weak and sick. The truth is that children who are disabled in sight and hearing have very little opportunities to have a healthy and active life. The message they receive from their own history and culture is: You have no value.
In Lucado's book, we hear about Punchinello, a wooden boy in a village with wooden men. The villagers put stars on "winners" and spots on "losers". Punchinello had many spots, and the villagers gave him spots for no reason. But when he saw Eli who had made him, Eli stated that he was not to take care of what others believed about him. "I created you," said Eli, "and I make no mistake." Punchinello had never heard such words before. But when he did, as Eli said, the spots began to fall off and when the children in the orphanage heard those words, their world began to change.
John Bentley writes how it was to read the story for these children and how immensely the impact was on those who were seated there and that they just about swallowed every word; "When it was clear to them that they were something special, simply because they were created by a loving creator, they all began to cry - even their teacher. That was powerful! "
Open your Bible today. There you get God's opinion about you and then build your life on it. It's the only meaning that counts and is immensely important! The Lord says, "Though the mountains be shaken and the hills be removed, yet my unfailing love for you will not be shaken ..."